14:49 GMT 07/03/2021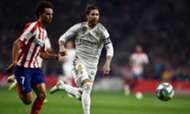 Goal tells you how to catch the action of the Spanish Primera División…
The 2020-21 La Liga season started on September 12 and set to end on May 23, 2021.
Barcelona (56 points) defeated Osasuna 2-0 to go three points clear of Real Madrid (53).
Currently third, Zinedine Zidane's men take on leaders Atletico Madrid (58) on Sunday.
Here's how to catch all the action Live.
 
Contents

Where to watch or stream the La Liga
La Liga in India is available to be streamed Live on  Facebook . 
La Liga fixtures
Matchday 26
| Date | Time (IST) | Match | TV Channel/stream |
| --- | --- | --- | --- |
| Mar 7 | 1:30am | Osasuna 0-2 Barcelona | Facebook |
| Mar 7 | 6:30pm | Huesca vs Celta Vigo | Facebook |
| Mar 7 | 8:45pm | Atletico Madrid vs Real Madrid | Facebook |
| Mar 7 | 11pm | Real Sociedad vs Levante | Facebook |
| Mar 8 | 1:30am | Athletic Club vs Granada | Facebook |
| Mar 9 | 1:30am | Real Betis vs Alaves | Facebook |
Matchday 18
| Date | Time (IST) | Match | TV Channel/stream |
| --- | --- | --- | --- |
| Mar 10 | 11:30pm | Atletico Madrid vs Athletic Club | Facebook |
Matchday 27
| Date | Time (IST) | Match | TV Channel/stream |
| --- | --- | --- | --- |
| Mar 13 | 1:30am | Levante vs Valencia | Facebook |
| Mar 13 | 6:30pm | Alaves vs Cadiz | Facebook |
| Mar 13 | 8:45pm | Real Madrid vs Elche | Facebook |
| Mar 13 | 11pm | Osasuna vs Valladolid | Facebook |
| Mar 14 | 1:30am | Getafe vs Atletico Madrid | Facebook |
| Mar 14 | 6:30pm | Celta Vigo vs Athletic Club | Facebook |
| Mar 14 | 8:45pm | Granada vs Real Sociedad | Facebook |
| Mar 14 | 11pm | Eibar vs Villarreal | Facebook |
| Mar 15 | 1:30am | Sevilla vs Real Betis | Facebook |
| Mar 16 | 1:30am | Barcelona vs Huesca | Facebook |
Matchday 2
| Date | Time (IST) | Match | TV Channel/stream |
| --- | --- | --- | --- |
| Mar 17 | 11:30pm | Sevilla vs Elche | Facebook |
Matchday 28
| Date | Time (IST) | Match | TV Channel/stream |
| --- | --- | --- | --- |
| Mar 20 | 1:30am | Real Betis vs Levante | Facebook |
| Mar 20 | 6:30pm | Athletic Club vs Eibar | Facebook |
| Mar 20 | 8:45pm | Celta Vigo vs Real Madrid | Facebook |
| Mar 20 | 11pm | Huesca vs Osasuna | Facebook |
| Mar 21 | 1:30am | Valladolid vs Sevilla | Facebook |
| Mar 21 | 6:30pm | Getafe vs Elche | Facebook |
| Mar 21 | 8:45pm | Valencia vs Granada | Facebook |
| Mar 21 | 8:45pm | Villarreal vs Cadiz | Facebook |
| Mar 21 | 11pm | Atletico Madrid vs Alaves | Facebook |
| Mar 22 | 1:30am | Real Sociedad vs Barcelona | Facebook |
Related links